ARTIST SPOTLIGHT
Bryan Faubert's MaSh-Up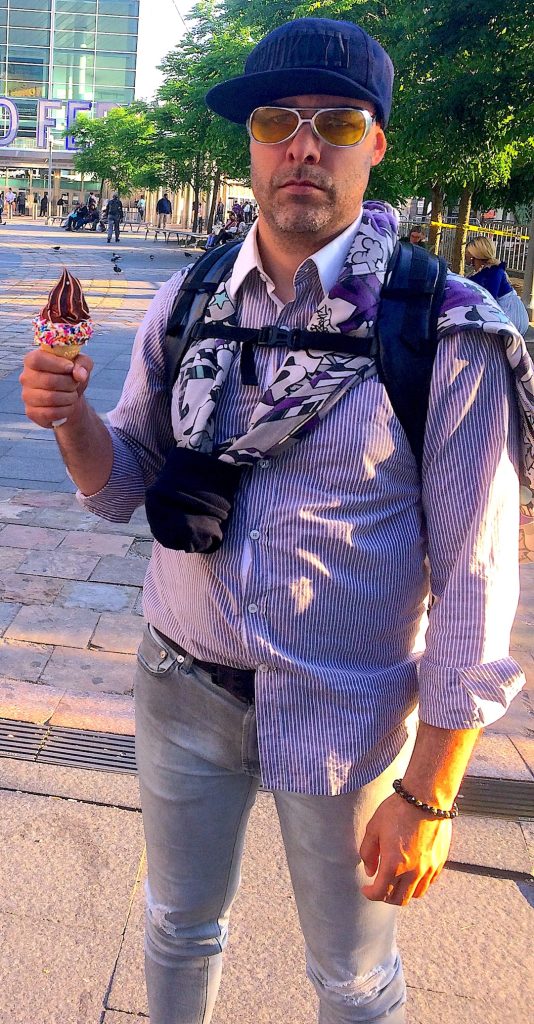 About the Artist
Bryan Faubert received his Bachelor of Fine Arts from the Nova Scotia University of Art and Design and his Master of Fine Arts from the University of Calgary in 2020. In 2014 he opened Studio 34, a sculpture studio, where he taught workshops and classes and conducted his own studio endeavours. This space was about accessibility to the public to experiment and learn, creating shared knowledge.
Faubert is a member of the Wolf-Sheep Arthouse Collective in Victoria and an artist at the nvrlnd. Arts Foundation in Calgary. Faubert's exhibition history stretches from Nova Scotia to Toronto, down to Mexico and back up to Vancouver and is comprised of graffiti expositions, installations, pop-ups, artist run centres, public sculpture, and commercial venues.
In 2019 Faubert travelled to New York City to apprentice with internationally acclaimed sculptor Cal Lane, this endeavor has inspired his current public sculpture with a C-Train car. This artwork is a public sculpture with a retrofitted interior which is an art studio beacon to perform public engagement endeavors such as: workshops, mentorship programming, art instruction, classes, and public lectures.
This artwork, located downtown Calgary has inspired Faubert's new urban-intervention project he has coined as 'Shadow Bombing', projecting temporary shadow artworks in the urban city scape ranging in scale from 1 foot to 300 feet in diameter.
About the Residency
MaSh-Up is a mixed media installation wherein all the methods the artist utilizes collide and respond to specific locations. The work is ever changing as parts are added, discarded, or altered. On several occasions the artist has removed sections of the gallery's dry wall, repurposing it in the next iteration; thereby creating an additive progression that references the durational nature of the project that builds its own history and narrative through its inventory. Bryan cuts paintings in halves, thirds, quarters, etc., for the installation to bend them in and around corners or up onto ceilings and floors. The entirety of the gallery or space becomes one work, and the outcome reflects the many facets of the artist's practice both formally and conceptually. This marks the beginning of the transition from space into place which highlights notions of placemaking embedded in Bryan's interdisciplinary art practice.
Bryan will be collaborating with Antyx Community Arts and the Cypherborn Breakdance Crew for the installation's grand opening.
"Working in a new space in the heart of the downtown Calgary core is most exciting for me, there is a sense and atmosphere of urgency; this sense is where I create from. This will also be a very challenging installation. My work is heavy and there's a lot of it, so not being able to drill into the walls makes this installation a challenging task. Therefore, this will be a very valuable problem solving and learning experience which will push my technical abilities and allow me to install this artwork in other locations with similar restrictions. I need to be able to adapt this installation series, this site will help push me technically and creatively."

"I hope to achieve an installation that is seamless and reflective of my previous exhibition of these works, where the viewer doesn't notice the restrictions I have had to adhere to in order to create this iteration. Success will look like making new connections and creating dialogue with the visitors to this installation. Learning new things about their interpretation of the artwork. Finding trace experiences and a new understanding of myself, the artwork, and the citizens of this local."
Artist Perspective
In his own words, Bryan shares his thoughts on Creativity, Community, Collaboration, and Change.
BF: From my perspective, the values you mentioned… are all essential ingredients for fostering a vibrant, inclusive, and innovative city. Creativity is the wellspring of new ideas and breakthroughs, and it can help us solve complex problems and drive progress.
Building community is crucial for creating a sense of belonging, social cohesion, and mutual support, which can help individuals thrive and make a positive impact on society. Collaboration is also essential for achieving ambitious goals that require the collective effort and expertise of diverse groups of people.
Being a steward of change means taking responsibility for the impact of our actions on the world around us and using our influence to promote positive transformation. These values can inspire and guide individuals, organizations, and communities to work together towards creating a better future.
cSPACE: What are your hopes for Calgary's future as a creative city?
BF: Calgary has been designated as a UNESCO Creative City of Media Arts since 2019, which recognizes the city's commitment to promoting creativity, innovation, and cultural diversity. As a Creative City, Calgary has the potential to leverage its strengths and resources to foster a vibrant and sustainable creative economy.
Building a thriving creative economy: By supporting local artists, designers, and cultural institutions, Calgary can help build a robust and sustainable creative economy that supports the city's overall growth and development.
Promoting cultural diversity and inclusion: Calgary's status as a Creative City provides an opportunity to promote cultural diversity and inclusion by celebrating the city's many different cultural traditions and perspectives.
Investing in creative infrastructure: To support the creative economy, Calgary could invest in creative infrastructure such as artist studios, performance spaces, and cultural institutions that can serve as hubs for creative activity and innovation.
Encouraging collaboration and cross-disciplinary innovation: By fostering collaboration and cross-disciplinary innovation between different creative industries, Calgary can help spark new ideas and drive innovation across a range of fields.
Overall, the designation of Calgary as a Creative City offers significant opportunities for the city to grow and thrive as a hub of creativity, innovation, and cultural diversity.
cSPACE: What brings you joy outside of your practice?
BF: My wife… she is the best human on the planet. She is an artist, I am an artist, our work brings us joy, it's what we do every day, 7 days a week. Getting out of bed is easy when you know you're rolling into your studio in the backyard.
Get Social
Instagram: @_kid.be_
Website: https://bryanfaubert.com
Bryan Faubert and MaSh-Up will be at cSPACE Eau Claire until June 2nd.
Check the Event Calendar for details and times.