WE DON'T BITE:
Dale Lee Kwong
MEET AN ARTIST: Dale Lee Kwong
Please see the Events Calendar for dates/times for all the Meet an Artist events, and for Stories of Exclusion. 
About Dale
Dale Lee Kwong (she/her) is a Mohkintsis based poet, playwright, and essayist. A native Calgarian, she is a third-generation settler of Chinese descent. Her work explores Chinese-Canadian history, diversity & inclusion, adoption, and LGBTQ issues. She performs under the direction of a border collie/heeler cross named Fonzarelli, and she is passionate about Chinatowns in Calgary and other Canadian cities.
Dale is particularly proud of two opportunities she was offered at Heritage Park this year. First, she was Co-Curator of the remounting of the We Were Here: Stories of Early Chinatown exhibit in Gasoline Alley. Then she was commissioned to write a theatre scene featuring a Chinese immigrant in 1910. It runs on Mondays, Fridays, and Saturdays at 3:30pm at Wing Chong Laundry.
Dale will be hosting a Chinese banquet at Silver Dragon for the Winnifred Eaton Conference happening at the University of Calgary and Chinese Cultural Centre from July 27 to 30.
For more information: https://weaconference.sites.olt.ubc.ca/home/conference-info/registration/
Artist Statement
There are two parts to my residency. We Don't Bite – Come, Meet the Artists, is an opportunity to hang out with pockets of community. My tribes. Husband and wife artist couple – Paul Rasporich and Lee Kvern are coming on June 22nd. They'll be fresh back from a trip to Yellowstone, and I'm sure they'll have interesting tales to tell. Come and meet them, they don't bite! 
Stories of Exclusion week leads up to Canada Day. I'll be researching stories from the Chinese Exclusion era. On June 23rd, I'm hosting a viewing party of the Senate. They will recognize 100 years of the passage of the Chinese Immigration Act. It's a significant moment in Chinese Canadian history.
I'm not an extrovert, but I'm really looking forward to hanging with folx I haven't seen much since Covid. But it wasn't just lack of opportunity, I've been so busy the past year I haven't had much down time. I will appreciate catching up with those who come. And it's always exciting to talk about creative process with other artists! I learn so much for my own artistic practice. 
In her own words
#lifegoals
Honestly? I'm hoping to refill my creative well. I'm kind of burnt out right now. I need to spend time with my peeps. My tribes. But I also want to document hidden histories from the Chinese elders. Success is building connections with them. Success is someone sharing their story. Success looks like getting it recorded.
Ambassador of Creativity, Builder of Community, Convener of Collaboration, and Steward of Change
Yes! Those are qualities I admire. Some I seek and others come naturally. Like building community. People say I am a connector. A match-maker for friends or organizations that I know. As for collaboration? That's why I'm a playwright! Theatre is collaborative. It's really unique compared to most other forms of writing. Other genres are competitive. I believe everyone has at least one story in them to tell. Personal, fiction. It doesn't matter. Whatever I can do to help another writer find their way is rewarding. Because I've struggled as a writer. I still do.  I like to build community because two heads are better than one. This kind of thinking is in my DNA – Chinese villages would pool their resources to sponsor the brave young men who immigrated to Canada. In turn, those Chinese bachelors sent money back to China. Helping one another is valued in my culture. Group over self. A rising tide raises all boats.
What are your aspirations for Calgary as a Creative City?
It feels like there was a shift during Covid. People isolate themselves both physically and emotionally compared to pre-Covid. I hope the creative arts can break those walls people have put up. I don't think the average person allows themselves to play as much as they should. Experience. Fail. Or succeed. I meet a lot of people who are envious I'm a writer, but I think it's something that can be learned. It's just the patience you need as an artist to keep going when you start out. You'll get better. Writing is hard work but if you put in the time, you too could be a writer. Or painter. Stop censoring yourself!
What's something that brings you joy? What gets you out of bed in the morning? 

My dog. If it wasn't for him, I don't know how I would have made it through Covid. My mom is 99, so I keep a fairly tight bubble. In fact, I had difficulty bonding with Fonzie. It wasn't until Covid that I realized I do love him. He is challenging compared to my previous border collie. Magoo was an angel. Fonzie is a handful and often quite a brat. But he gets me out of bed in the morning, and many days it is hard to get out the door.
Get Social
Instagram @daleleekwong
Facebook – author page for Dale Lee Kwong
The Artists You'll Meet
Have you always wanted to meet an artist? Now's your chance! Dale Lee Kwong hosts a daily meet and greet featuring different artists from the Calgary area. There will be a short interview at 12 noon to learn about the artist, their creative practice and any Q and A. This is followed by an open house. Ask anything you want, artists don't bite!
Check out some of the artists you'll meet in their bios below.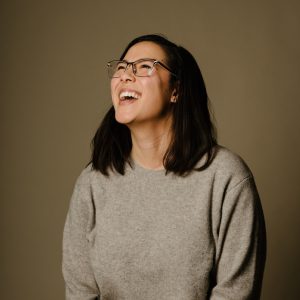 Get Social
Instagram: [at]karissamah
Meet Jenna Rodgers
Tuesday June 13
Jenna (she/her) is a mixed-race Director and Dramaturg who gratefully resides on land called Moh'kins'tsis (Calgary), on Treaty 7 Territory. She is the founding Artistic Director of Chromatic Theatre, the Dramaturg for the Playwrights Lab at Banff Centre for Arts and Creativity, the Board Co-Chair of LMDA, and the Director of Theatre Alberta's Artstrek Program. She is a graduate of the NTS Artistic Leadership Residency (2020), the Banff Centre's Cultural Leadership Program (2019), and a member of the artEquity National Facilitator Training cohort (2018). Jenna holds a MA in International Performance Research from the universities of Amsterdam and Tampere.
Recent directing credits include Teenage Dick at Alberta Theatre Projects, Little Women at Theatre Calgary, Hookman and The Green Line for Chromatic Theatre, Sherlock Holmes at the Vanishing Thimble at Vertigo Theatre, Undressed at Alberta Theatre Projects, and Mary's Wedding at the Citadel Theatre.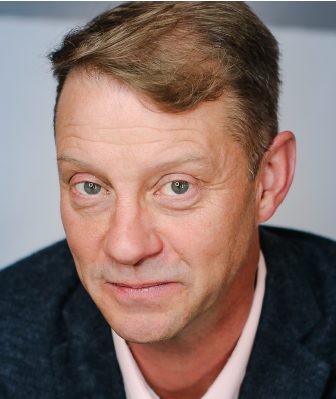 Meet Trevor Rueger
Wednesday, June 14
Trevor Rueger has been an actor, director, writer and dramaturge for over 30 years. In 2011 he received the Betty Mitchell Award for Outstanding Performance by an Actor in a Supporting Role for his performance as Billy Bibbit in Theatre Calgary/Manitoba Theatre Centre's production of One Flew Over the Cuckoo's Nest. As an actor, he's been seen at Theatre Calgary, Lunchbox Theatre, Sage Theatre, Vertigo Theatre, Stage West, and the Garry Theatre. His directing credits include When Girls Collide, Columbo: Prescription Murder and Columbo Takes the Rap for Vertigo Theatre, Ai Yah! Sweet and Sour Secrets, Life After Hockey and The Complete Works of William Shakespeare (Abridged) for Lunchbox Theatre, Heroes for Sage Theatre, SHE and Matadora for Trepan Theatre, Medea and 33 Swoons for Rocky Mountain College and Courage for Lost Boy Productions.
For 20 years he was an ensemble member and writer for Shadow Productions. He has written five produced Theatre for Young Audience plays. Trevor was also an original ensemble member of Dirty Laundry and for 10 years was the chair, writer, and producer of the Betty Mitchell Awards.
Meet Vicki Van Chau
Thursday June 15
Vicki Van Chau is a filmmaker, curator and arts administrator based in Calgary, Alberta. She was the Programming Director at EMMEDIA Gallery & Production Society, a non-profit media art centre, where she co-founded the PARTICLE + WAVE Media Arts Festival. She left in 2020 to pursue her film practice full-time and has since directed and produced several award-winning short films that have screened across Canada and internationally. She recently received the Lieutenant Governor of Alberta Emerging Artist Award in 2022 and the Queen Elizabeth II's Platinum Jubilee Medal in 2023 for her contribution to the arts & culture in Alberta.
As a freelance arts administrator, her clients include the Alberta Media Arts Alliance Society and CanAsian Arts Network. She is an active arts community member and has sat on the Board of Directors for the Untitled Art Society (now known as The Bows), EXPOSURE Photography Festival, Alberta Media Arts Alliance Society (AMAAS), and most recently, the Calgary Underground Film Festival (CUFF). She recently curated an exhibition featuring local Chinese artists for "Culture & Kin: Reclaiming the Chinese Narrative Through Contemporary Art" at Fort Calgary, which will be exhibiting until May 1, 2024.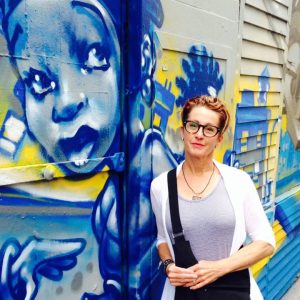 Get Social
Facebook: Lee Kvern
Instagram [at]leekvern
Meet Lee Kvern
Thursday June 22
Lee Kvern is a Canadian author of short stories and novels. Her stories in 7 Ways to Sunday have garnered various literary awards including the CBC Literary Prize. Afterall was selected for regional Canada Reads and nominated for Alberta Book Awards and the Ottawa Relit Award. Lush Triumphant finalist and recent Best of the Net nominee. Her work has been produced for CBC Radio and been published in numerous literary magazines across Canada and the US. She's currently finished her fourth novel Catch You on the Flipside, an international thriller.
Meet Paul Rasporich
Thursday June 22
Paul Rasporich has been Professional Artist for 35 years and a K-12 Art Educator for the past two decades. He has painted professionally for thirty-five years. Early works represented by Masters Gallery in Calgary. His portraits of prominent Canadians include: W.P. Kinsella (writer), Karen Kain (prima ballerina), Ian Tyson (musician), Douglas Cardinal (architect), John Snow (Nakoda Chief). Paul has painted formal portraits of Business leaders and lawyers: Frank Burnet, Tom Duckworth, Jim Palmer, and Mac Jones. He has been shortlisted to paint many former Canadian Prime Ministers, and was considered to paint Queen Elizabeth for her Diamond Jubilee. His work is represented in numerous private, public, and corporate collections: Alberta Foundation for the Arts, City of Calgary Civic collection, Burnet, Duckworth and Palmer, and Bennett Jones Law Firm.
Paul recently retired from classroom teaching, and has started the drawing and painting from nature YouTube Channel, Art with Raspo.